Central System Refrigeration devices consist of more than one compressor each has equal capacity that works on an integrated system simultaneously.


It is used in plants where the cooling capacity is high or the number of internal cooling units is high.


Central System Cooling Devices Screw Type, Semi Hermetic or Scroll Type Compressors are used.


Central Systems are mostly preferred in large scale Cold Storages.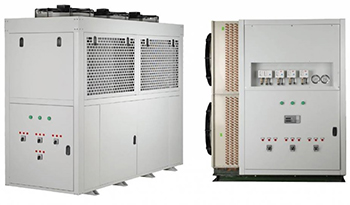 Can be used in Cold Storage or Frozen Storage rooms
It has air cooling condenser.
Condenser surface area of and capacity aredesigned according totropical climate conditions.
Standards-compliant IP 55 switchboard integrated and all electrical equipment are plugged on the unit and ready for installation.
Can be produced with2, 3, 4 or 5 compressors
Equipped with a Wired Remote Control Panel
Low speed silent fan (optional)
All devices are equipped with Acoustic Sound Isolation and Failure Signal Lamps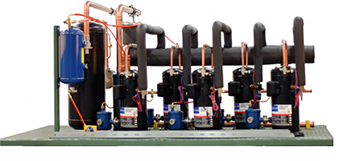 Central System Devices Cooling Capacities are listed below.