Cooling device outdoor unit consists of condenser, compressor, fan motor, liquid tank, solenoid valve, combined prosestat, sight glass, fan motor, fan control, dryer filter and electric panel.

Semi-Hermetic Split Devices are mostly preferred inmediumandlarge scaleCold Storages.

Can be used in Chiller Rooms or Frozen Rooms
It has air-cooled condensers


Condenser surface area of and capacity are designed according totropical climate conditions.
Standards-compliant IP 55 switchboard integrated and all electrical equipment are plugged on the unit and ready for installation.
Capacity ranges are available from 2 HP to 50 HP
Equipped with a Wired Remote Control Panel
Low speed silent fan (optional)
All devices are equipped with Acoustic Sound Isolation and Failure Signal Lamps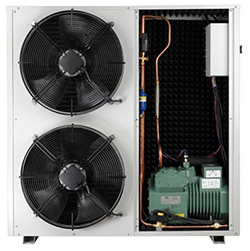 Refrigeration Capacities for Semi-Hermetic Split Chillers are listed below.