An important key to efficient use of the cold store is the proper stacking. Stacking is possible by placing the cold storage shelves in the most appropriate way in the room. In small and medium-sized cold rooms, a layout plan should be made considering the size of the boxes or packages.
In Industrial facilities while installing the shelf systems not only the number and size of pallets; but also the gap for the corridor as well as the internal net size of cold storage should be taken into consideration for the efficient operation of the forklift
In Small and medium-sized cold storages; Chrome (AISI 304 Stainless Steel) Shelves or Aluminum Shelves are mostly used. In large scale Industrial Cold Storage Facilities, Electrostatic Powder Coated or Galvinized Shelf systems are preferred according to the storage temperature.
Chrome (AISI 304 Stainless Steel) Shelves
Hygienic. Restraints bacterial growth
Easy to assemble and disassemble
Easy to clean
Can be produced in different sizes
Long life
Provides healthy storage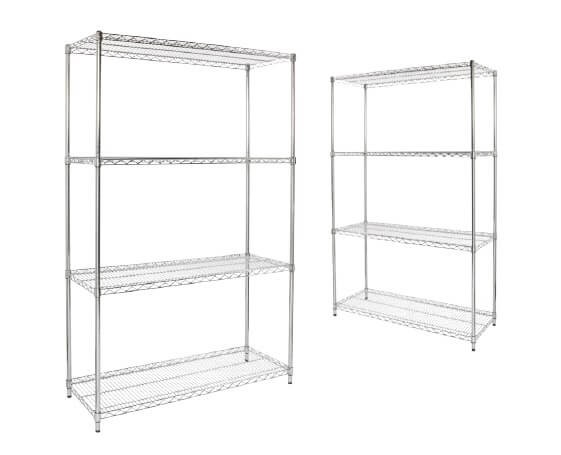 Aluminum Shelves
Hygienic. Restraints bacterial growth
Easy to assemble and disassemble
Easy to clean
Can be produced in different sizes
Long life
Provides healthy storage